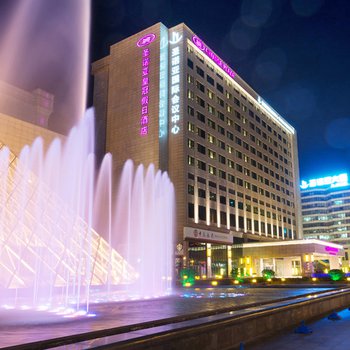 Crowne Plaza Shanghai Noah Square (Shanghai Sheng Nuo Ya Huang Guan Jiari Jiudian) is uniquely located at 118 Plaza, one of the most stylish landmarks along Jinshajiang Road in the center of Putuo District, 8 km from Hongqiao International Airport and 50 km from Pudong International Airport. Additionally, just minutes from important areas like Hongqiao Linkong Economic Zone, Shanghai Everbright Convention & Exhibition Center and the Shanghai International Procurement Exhibition Center. You can easily access the rest of the city via Metro Line 13 Zhenbei Road and the Middle Ring Road.
The 1st floor of the hotel features both Eastern and Western cuisine, including an early breakfast and late night dinner offerings.
Those of you with a balanced lifestyle can enjoy the hotel's N Club & Spa on the 4th floor, the perfect place to keep fit and feeling invigorated. There is a 1,200 sq m fitness facility and full-size swimming pool, and features a full range of state-of-the-art exercise equipment to serve your workout. Yoga, aerobics and other wellness activities are also available to meet your mind and body needs.
Crowne Plaza Shanghai Noah Square boasts an impressive 1,500 sq m of flexible event space across 10 meeting rooms set on the hotel's 2nd and 3rd floors. An elegant 937 sq m pillarless high-ceiling ballroom seats up to 600 guests in banquet style and the foyer further servers to accommodate up to 300 people for dining, exhibitions or breaks. In addition to this, a 500-space underground car park offers elevators that go directly to the meetings floors providing an added convenience for large events that must go off without a hitch.